Written by

Rosanna Neophytou
Interview with Dasho Dorji Dhradhul
Director General of TCB and Chair of Trans Bhutan Trail Steering Committee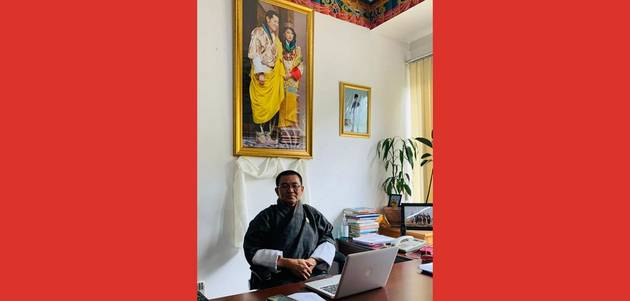 Dorji Dhradhul, Director General of Tourism Council of Bhutan (TCB) completed his bachelor's degree in Agriculture Science from Sri Lanka and obtained a master's degree from the UK. After working as an agriculturist at the Ministry of Agriculture and Forest for almost 20 years, he was appointed by the Royal Government of Bhutan as Gasa Dzongda (governor). After serving for 4 years as Gasa Dzongda, he was appointed as the Director General of TCB in 2019.
Dorji Dhradhul also serves as the Chairman for the Steering Committee of Trans Bhutan Trail Project and here's what he has to say about the project.
"This will not only revive our traditional route, but at the same time this will be a new product for tourism. Therefore I was overly excited to be part of this project".
-Dorji Dhradhul
Q: Tell me how you first got involved with Trans Bhutan Trail and what was your first impression of this project?
A: I was first introduced to this project by Dasho Tashi Wangyel, an eminent member of National Council, who is also leading this Royal project. The activity is apparently not new to the tourism sector as trails are the important tourism product. Tourism Council Bhutan (TCB) has carried out a survey of the same trail in 2014 with the objective to start its restoration. However, no work began.
So, when I heard about this project the first time, I was very excited mainly for three reasons. First, our long pending work is being taken up. Secondly, this will give us a great tourism product. Thirdly it is very significant historically.
Q:What has impressed you most while working with Trans Bhutan Trail?
A: As I got involved with the project through the Steering Committee, I feel fortunate to get the opportunity to work with highly resourceful personnel from Canada who have shown not only passion but their expertise in realizing the project goals and objectives. Almost 99% of the trail is restored and it happened within a short period of time which I really didn't expect.
Q:What do you find most challenging about this project?
A: Initially when this project started, I was not sure about the funding but fortunately with the turn of events with Covid-19, the project received good support from the Royal Government of Bhutan through the Tourism Contingency Plan. Going forward the challenge will be how to ensure the sustainability of this trail.
Q:What would you say are some of your strongest beliefs about this project?
A: In Bhutan we have so many other trails such as the Snowman Trek. Known globally, the Snowman Trek is supposed to be toughest trek in the world mainly because of its altitude with almost 90% of the trail 4000 meters above sea level. So I'm hoping that Trans Bhutan Trail can also aspire to gain similar reputation if not bigger.
Q: What would you tell someone who is thinking about donating and volunteering in this project?
A: We are already discussing the sustainability plan including TBT to become a Civil Society Organization (CSO). Whatever structure TBT forms, if there are people willing to volunteer and donate, then we will always welcome and appreciate those people and organizations.
Q: What do you think will change about the old trails that TBT is restoring over the next five years?
A: Over the next five years, I'm hoping that the Trans Bhutan Trail will be very popular. It will be known globally as one of the most interesting trail to walk and I have huge expectations from this project.
Q: How do you think the Trans Bhutan Trail could contribute to or bring a positive change to the society?
A: One of the main principles for this project when it started was to engage the community. Funding for the restoration work from the Royal Government of Bhutan was part of the Tourism Contingency Plan, and so we were expected to engage unemployed tourism employees in the restoration work. While we might not have achieved this objective fully, we have definitely achieved the original objective of fully engaging the concerned local people. We must have engaged over 500 local people in the recent restoration works.
We also believe that once the trail becomes operational and vibrant, the local communities will be benefiting from the various economic activities it will bring along.