Written by

Rosanna Neophytou
Interview with Kinley Tenzin, PhD
Executive Director of Royal Society for Protection of Nature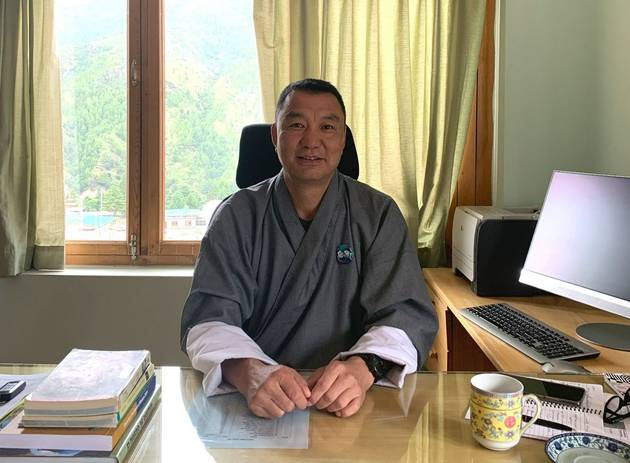 Dr. Kinley Tenzin completed his Undergraduate BSc in forestry from the University of the Philippines and his Master's degree in Natural Resource Management from the University of Edinburgh, UK. In 2003, he was appointed as Forest Research Program Officer and a National Counterpart to the International Project funded by Boku University, Austria and Columbia University, USA.  In May 2008, he has successfully completed his PhD from the Boku University, Vienna, Austria. In 2010, he was appointed as Program Director by the Royal Government of Bhutan. 
As Program Director he is the head of the Renewable Natural Resource Research and Development Center, based at Thimphu. The research institution has a national mandate to coordinate forestry research in the country. There is also a regional mandate to cater the research and extension needs in agriculture, forestry and livestock in five districts in western and southern Bhutan.
In 2015, he was appointed as Executive Director for Royal Society for Protection of Nature (RSPN) to look after conservation.  He is also currently the member to the National Environmental Commission (NEC), a Board Member to Climate Action Network of South Asia (CANSA), and a Steering Committee member on the Trans Bhutan Trail initiative. Below is our interview with Dr. Tenzin.


Q:Tell me how you first got involved with Trans Bhutan Trail (TBT) and what was your first impression of this project?
A: The Trans Bhutan Trial program was first introduced to me and the country director of WWF by Dasho Tashi Wangyel and Dasho Sonam Kuenga from the Royal Secretariat Office. They showed us holistic trail initiatives across the country developed by Tourism Council Bhutan (TCB). I got involved with the TBT team maybe because of my background, association, and RSPN's conservation programs in the country. For me, the idea of restoring our great grandfather's footsteps and making all of us in the current generation feel what they went through without the motorable road is simply great. Today, many individuals from all the over the world enjoy their time with nature and people. The TBT initiative is right and timely. We must come up with holistic approach for trekkers to enjoy their trekking, for people and communities living along the TBT to benefit, and to address environmental conservation. I am also very optimistic that our Gyelsuung will be largely benefited.
Q:What has surprised or made you interested in working with Trans Bhutan Trail?
A: I was not surprised to learn about TBT because TBT has been our root. TBT is interesting in the fact that it is going to benefit people of all nationalities through culture, tradition, history, economy, livelihood opportunities, youth engagement, nature, environment, and conservation and protection.
Q: What do you find most challenging about this project?
A: As the member of the Steering Committee, one of the major challenges that I foresee is the sustainability of theTBT; both in terms of keeping the trial going all the four season and meeting the operational cost without hindrances. We all know and understand that COVID has seemingly displaced the economy of the whole world, which also means that raising fund is going to be very difficult. We perhaps need to discuss further and come up with more self-sustaining approaches. We also need to market to our own people to explore the TBT. In doing so we may have to meaningfully come up with a fee structure. Other challenges could be the human resources. TBT may need to recruit people who can multitask to keep the TBT going throughout.
Q: Tell me about some of the people you have met while working with TBT and what was their opinion about the trail restoration?
A: As far as my connection with our partners, supporters, philanthropists and stakeholders, they are all very positive about the TBT project. Everyone is of the opinion that we should restore and refurbish our ancient trail for this generation of people to explore and appreciate our ancient roots. Moreover, I also believe that the TBT can benefit people of all ages, nationalities, and mainly the Gyelsuung. TBT will also continually benefit our people and local community economy and livelihood.
Q: What would you say are some of your strongest beliefs about this project?
A: I strongly believe that the TBT is going to bring people of all the nationalities speak the same language at the end of their walk or trekking. It is also expected to increase people's appreciation towards our culture, tradition, history, and natural environment. TBT will also no doubt employ and benefit local people and communities.
Q: When your friends or family finds out that you have volunteered in TBT, what do they say or ask you?
A: My colleagues in RSPN know about my engagement in the TBT initiative. I have discussed with them how both as organization and staff we could contribute to TBT programs, not only in terms of our experts and experiences but also by facilitating our connections for raising fund and building networks.
Q: What would you tell someone who is thinking about donating and volunteering in this project?
A: The voluntarism culture is picking up, but donation culture is still at the infancy stage unless the donation is for religious matter. That's why it is perhaps very important that the TBT may have to develop self-sustaining approaches. One of the self-sustaining approaches would be to develop grant project proposals both small and large relevant to TBT and seek national and international donor support.
Q: What do you think will change about the old trails that TBT is restoring over the next five years?
A: In five years time, I would expect that the TBT is fully operational and at least 10,000 people of all nationalities walk or trek along the trial every year. I would also expect that the TBT is well connected across the globe with people from all over the world coming to Bhutan to experience the Trans Bhutan Trail or to participate in events organized by the TBT.
Q: How do you think that Trans Bhutan Trail contribute or can bring a positive change to the society
A: I think the TBT will bring positive change in many ways through rural community livelihoods or appreciation for Bhutanese culture and tradition, nature and environment. The TBT could also engage and employ people, while bringing more interdependence and interconnection amongst all walks of life. I am sure there will be countless positive changes that will take place. I can't wait myself to be on the trail very soon.