Written by

Rosanna Neophytou
Interview with Agay Passang Wangi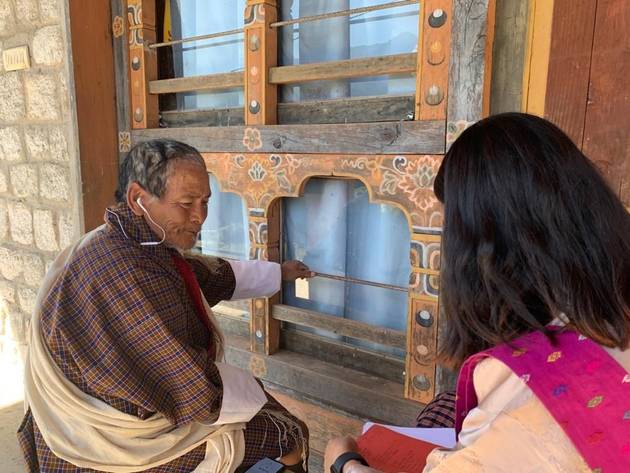 72 year old Agay Passang Wangi from Phangyuel Gewog, Wangdiphodrang Dzongkhag travelled the Trans Bhutan Trail when walking by foot was the primary means of transportation. He recalls the journey he took to attend ceremonies and meet relatives. Today, he shares the beauty and wonder that exists in the ancient Trans Bhutan Trail while reminding us to appreciate and enjoy our trails.
Q: Have you traveled through the old trail?
Yes, the trail starts from Phangyuel which leads to Chongsakha, Dai Goenpa and then Taa Chhula (village) where there is no existing settlement, and the lands are left fallow. However, the government is planning to come up with some projects. After Taa Chhula, we will come across Dachhu Laptsha where the boundary ends. Then we will reach Lumikha, Dzomibala (Dzomi Gewog) and finally at Punakha.
Q: What was the reason for travelling from that old trail?
Now, we are connected by motor roads, but back then we had to travel on foot for days to reach the destination. When someone from our locality died, we had to conduct the funeral at Punakha. We had to carry the body. If we start the journey early in the morning, we will reach Punakha at 11:00 am. My grandfather used to live in Punakha. People from Chongsaykha are considered as relatives from the same family who were from the same parents. They help each other during the time of hardships. The women would offer the tea and men would help us carry the body. The men used to have a competition to see who is stronger and faster to reach the destination, but they were not allowed to travel alone; so they had to wait for the team and horses. I have never gone for trade even during my childhood.
I had travelled to Wangdue on foot from my village. I went to Wangdue to study but, back then Hindi was taught instead of English. When I was fifteen years old, I went as a local guide with Lyonchen Penden Wangchuk. From Limukha, I was sent back alone back to Wangdue. Nowadays, no parents would send their children alone on those trails. I remember eating zaw (puffed rice) which they gave me to eat on my way. I walked for hours. During the olden days' life was really hard; unlike it is for today's generation.
I could only think of those olden days and reminisce the great times I had. There is always an adventure waiting in the woods.

Final thoughts


Trails connect us to nature and to each other through shared experiences in the outdoors. In turn we shape and impact trails. The trails of tomorrow include the trails of yesterday; they need our continued custodianship as much as we need everything, they give us from connecting us to nature and culture to enhancing our health and wellbeing"
– Passang Wangi, elder who hiked the Trans Bhutan Trail